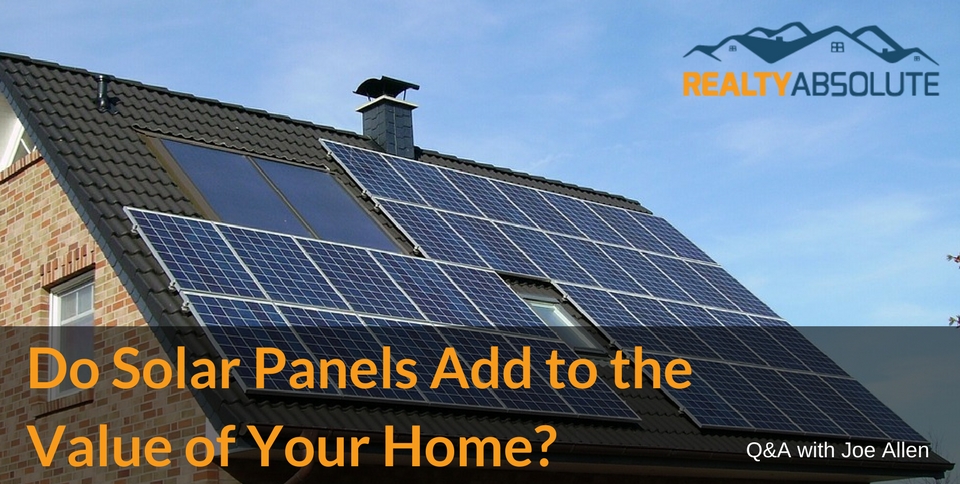 As a top real estate broker, and 'Southern Utah's Home Adventure Guide,' people are always asking me questions. Recently, a client asked:

Question: Does having solar on a home add to its value? If so, do you know how much value it would add to the home?

Answer: Yes, they add value, but adding solar panels to a home is a terrible investment. You might be asking yourself, "why?" Let's do a thought experiment: let's assume that you just spent $20,000 to install solar panels on your home, then immediately decide to sell your house. Let's also assume that your house is identical to the home for sale next door in every way, except it doesn't have solar panels. If everything is the same except one house has solar panels, and the other does not, which house will sell for more? Of course, the house with solar panels will sell for more, but why? How much more will it bring at the sale? Will a buyer pay you $20,000, full retail value, for your used solar panels? Of course not. A rational buyer may pay slightly more for the added benefit of solar panels if they perceive that they add value to the property.

Electricity is cheap. In Southern Utah, we enjoy electricity costs that are well below the national average of 13.02 cents/kw-hr. City of St. George residents pay 7.5 cents/kw-hr and Dixie Power customers reap the benefits of some of the lowest cost electricity in the nation, paying just 5.8 cents/kw-hr.

If you're a buyer, and you know that your power bill is already low, will you pay a large premium in the purchase of your home for solar power? Probably not.

There are plenty of valid reasons for installing solar panels. I wholeheartedly advocate each and every person to do his or her part for the environment. If you want to install solar panels, and you plan on remaining in your home for a decade or more, then please install solar panels. But, if you aren't planning on staying put, don't waste your money.

As our society becomes more and more environmentally conscious, I expect you will see solar power generation taking place on a large scale through the utility providers and not at the individual homeowner level.

Dixie Power customers, did you know that you can get solar power through Dixie Power? Read more here: https://www.dixiepower.com/services/sun-smart-solar-farm/

Case in point, I recently went on a listing appointment where the seller had, a few months prior, spent almost $30,000 to install solar panels. To buy the panels, he took out a private loan from the company who sold them to him. Because the panels were installed on the roof, they became part of the house, and the seller had to pay off the $30,000 loan in order to sell the home. He was really excited to show me his solar panels. I hated to break it to him that they did not increase the value of his home by $30k. He ended up selling the house for almost exactly the same price as the neighboring homes that didn't have panels, and he had to bring $30k to the closing table!

You will never recoup the investment into solar panels upon the resale of a house. Put bluntly, solar panels are a terrible investment.

Do you have a question for me? Call or email me at (435) 773-3870 or Joe@RealtyAbsolute.com.